Located 450k south of perth, The City of Albany sits between the hills of Mount Melville and Mount Clarence. Albany is nestled between the waterways of the Princess Royal Harbour and King George Sound.
Albany is home to 6 National Parks including Torndirrup National Park (home of The Gap and Natural Bridge Formations), West Cape Howe (the southern most point of WA), and Western Australia's newest National Park, Gull Rock National Park.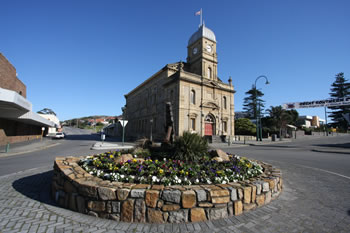 Albany Town Hall
The Albany Town Hall (photo above) is located on York Street, the main street in town which gently slopes toward the Princess Royal Harbour. Albany is truly a harbour city filled with character and charm! View the Albany History Page for photos of Albany pre 1918.
There are many beaches surrounding Albany, with Middleton Beach being the most popular, and the closest to the town centre! View the Albany WA Beaches Map for all the Albany Beaches.
Albany is one of the best places in WA to venture out for day trips to see whales in the Great Southern Ocean. Despite Albany's whaling past, the Humpback and the Southern Right Whales use the sheltered southern bays for mating and raising their calves. Whales are frequently spotted from the lookouts between May and October.
You can oftentimes see them from the Albany Wind Farm lookout which winds along the Bibbulmun Track. You can also see spectacular views of the twelve eco-friendly turbines which lower greenhouse gas emissions by approximately 77,000 tonnes per year.
Today the town is a wonderful and much visited tourist destination and base from which to explore the south west of the state. It is well regarded for its natural beauty and preservation of heritage.
It also has a number of historic tourist sites including the Museum, Albany Convict Gaol, The Princess Royal Fortress (commonly known as The Forts) and Patrick Taylor Cottage, ("the oldest dwelling in Western Australia, c1832"). Read more about Albany's History.
Albany has a great deal of historical significance to Western Australia. Albany is also the southern terminus of the Bibbulmun Track walking trail.* (*Wikipedia)
There is a memorial to the ANZAC Desert Mounted Corps on top of Mount Clarence. The memorial consists of a statue of an Australian mounted soldier assisting a New Zealand soldier whose horse has been wounded and a wall bearing the words "Lest We Forget".
The first commemorative dawn service was held here on Anzac Day, 25 April 1923. A dawn service has been held ever since and currently around several thousand people participate each year. [wikipedia]