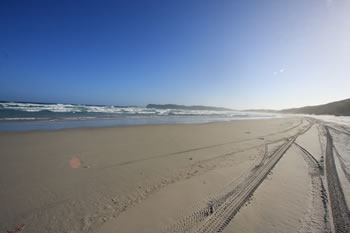 The Rainbow Coast offers much to the 4 Wheel Driving enthusiast and casual four-wheel driver. There are many 4wd tracks and trails throughout the south coast.
The Department of Environment and conservation states on their website: "4WD vehicle owners and drivers who access public lands have a responsibility or 'duty of care' to help protect Western Australia's flora, fauna and natural landscapes so that future generations of users will be able to enjoy what we now take for granted."
It is important to remember that 4 Wheel Driving can be dangerous to the inexperienced driver. Ensure you have taken the time and effort to thoroughly plan your adventure. If you are planning to head to remote areas (for instance Bornholm Beach at West Cape Howe) it is important to notify someone of your trip and your estimated time of return.
The best practices we've found can be accessed on the DEC's website: Four Wheel Driving Tips for Trips.
Where to 4 Wheel Drive?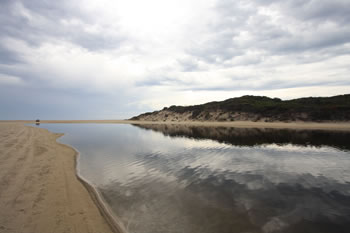 Some of the most accessible Four Wheel Driving tracks include Torbay Inlet (near Albany), Peaceful Bay (towards Walpole), and William Bay National Park's Mazzoletti Beach. One of the most secluded and dramatic is Boat Harbour.
Probably the most challenging beach of all (which we DO NOT RECOMMEND visiting without a serious 4WD, supplies, and radio) is Bornholm Beach at West Cape Howe. (Reported to be one of the most difficult beaches to access in all of Australia!)
We recommend stopping at the local Visitors Centres to see which tracks are open and whether your vehicle is equipped to manage such trails. If in doubt, DONT. Getting bogged is NOT fun.
South Coast 4 Wheel Driving Location Map
Albany, Denmark, Walpole and Surrounds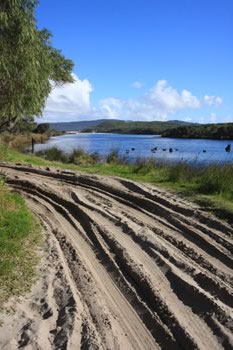 There is an Australian National Four-Wheel Driver's Code of Ethics:
Obey the laws and regulations for recreational vehicles that apply to public lands.
Respect the cultural, heritage and environmental values of private/public land, by obeying restrictions that may apply.
Respect our flora and fauna. Stop and look, but never disturb.
Keep to formed vehicle tracks.
Keep the environment clean. Carry your own, and any other, rubbish out.
Keep your vehicle mechanically sound and clean to reduce the environmental impact.
Adopt minimal impact camping and driving practices.
Seek permission before driving on private land. Do not disturb livestock or watering points, leave gates as found.
Take adequate water, food, fuel, basic spares and a first aid kit on trips. In remote areas travel with another vehicle and have Royal Flying Doctor Service, or equivalent, radio contact.
Enjoy your recreaction and respect the rights of others.
Plan ahead and lodge trip details with a responsible person.
Support 4WD touring as a responsible and legitimate family recreational activity. Consider joining an affiliated 4WD club.
"All vehicles are required to stay on established roads or tracks. Vehicles may only be used off a public road or track (e.g. a beach) if an area has been designated for such use. In the case of national parks and conservation parks, this designation is generally conferred through the preparation of a management plan, which involves extensive public participation. Similarly, off-road vehicle use in all other reserves and State Forest is not permitted, unless so designated. In other words, 'bush bashing' or travelling cross-country is not allowed." ~ Dept of Environment and Conservation
Tips and Resources for Four Wheel Drivers
Dept of Environment and Conservation: The DEC has very useful information on Four Wheel Driving in Western Australia including links to Clubs and Associations, Policy on Public Acess and the best Tips we've found anywhere.

Western Australian Four Wheel Driving Association: Useful information about 4WD clubs in Western Australia: http://www.wa4wda.com.au/

ExplorOz has an excellent basic Skills and Rules guide for 4 Wheel Drivers at: http://www.exploroz.com/
Bushbooks: We found these Bush Books an invaluable resource for exploring the area and finding out more detail on the beauty of our National Parks. "Bush Books currently cover 21 titles. The success of the Bush Books series not only reflects the enormous interest in this tremendous diversity, it also shows that people are genuine in their efforts to support conservation measures." Bush Books cost $5.95 and are available from booksellers, tourist outlets, newsagents, CALM offices and through CALM's website