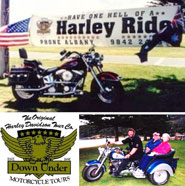 Down Under Motorcycle Tours
Experience the thrill of a Harley-Davidson motorcycle tour or the comfort of the Trike, a great way to explore!
Albany, with it's spectacular views and great coastal rides make this an ideal trip and one that will be talked about for years to come. There is no better way to see Albany than on the back of a Harley, our limit is your imagination! A simple phone call or email. We come to you! FREE pick up and return to your door in the Albany City area. Bring your camera and a sense of adventure. Quick Thrill through the City Centre and around the mountain, Around the Mountain and along the Foreshore, Around the Mountains, The River Run, Twin Mountains, Albany Wind Farm, Two Peoples Bay & Little Beach, Scenic Denmark & Return, Tree Top Walk, Twilight Tours, Winery Tours, Open Road Via The Poronurups. Great views are to be had on all of our Albany rides. Tours to suit any budget.
Advertisers prefer you to BOOK DIRECT saving them countless amounts on booking fees. CONTACT THEM DIRECTLY NOW!