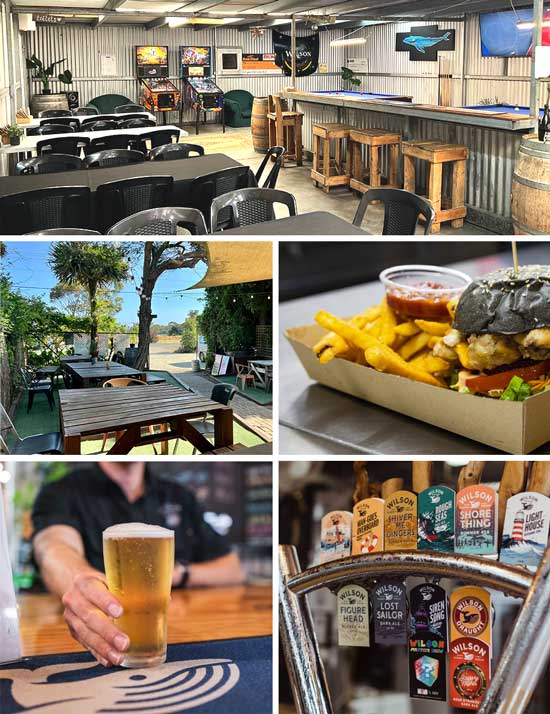 Wilson Brew Pub
Albany
No fancy frills, just good vibes, tasty food and great brews at wallet-friendly prices.
At Wilson's Brew Pub, we keep it real. Embrace the true essence of laid-back Aussie culture at Wilson's Brew Pub, the ultimate destination for beer enthusiasts in Albany. Enjoy our selection of handcrafted beers, lovingly brewed to perfection. Sip on our XPA, Ales, Ginger Beers, Lagers, Stouts, and Bitters, all crafted with passion and expertise. Our menu is designed to satisfy your cravings. From loaded fries to mouthwatering cheeseburgers, irresistible nachos, and finger-licking chicken wings, we've got the perfect bites to complement your brew. Wash it all down with soft drinks or enjoy local wines. Our friendly staff ensure great service. Relax indoors in our spacious restaurant with pool tables or enjoy our beer garden. Experience a relaxing and enjoyable time at our family-friendly establishment, where your four-legged friends are also welcome.OPEN: Tues-Wed: 11AM - 9PM Thurs-Sun: 11AM - 10PM Closed on Monday. Limited Seating, Walk-ins only!
This establishment prefers you to BOOK DIRECT saving them countless amounts on time and effort, and ensuring you have a place when you arrive. CONTACT THEM DIRECTLY NOW!
Where is Wilson Brew Pub?
Wilson Brew Pub is located at 47768 South Coast Hwy, Albany, 6330, WA - on the South Coast of Western Australia.
---
What is the BEST way to book Wilson Brew Pub?
Wilson Brew Pub prefers that you book DIRECT, as it allows them to serve your needs better.
---
Where is the BEST way to book Wilson Brew Pub?
If not by phone, Wilson Brew Pub prefers that you book via their Website: www.wilsonbrewing.com.au to serve you better.