The south coast of Western Australia is perfectly placed, and perfectly named "The Rainbow Coast". Why? Because the angle of the sun in relation to this southern coast of Western Australia is less than 42 degrees above the horizon (particularly in winter).
The sun shines out of the north onto the rain that comes off the southern ocean... and because of the angle of the sun... you get Rainbows throughout the day!
Remember, it takes SUN to make Rainbows!
If ever you were to find a rainbow's end it would be here along the Rainbow Coast of Western Australia. Rainbows are magical, mystical, and marvelous. Though the bottom of a rainbow has yet be found, there may still be a buried pot of gold.
Rainbows are caused by refraction and reflection of the full spectrum light given out by the sun. The light is altered by the presence of raindrops. The raindrops break up the light into its component colours... showing us what is hidden in every ray of light.
Being at this distance 'downunder' - the Rainbow Coast is perfectly placed to enjoy the spectacle of Rainbows.
During the winter months (which is the rainiest time of the year for all of WA) the sun is closer to the northern horizon as we are tilted away from the sun. In order to see rainbows, the sun must be within 42 degrees of the horizon, as well as behind you. As the rain usually comes off the ocean from the south west which geometrically means "rainbows, rainbows everywhere!"
Essentially: If you visit in the winter time, face south and look for rainbows.
Don't be fooled by the name! The yearly average rainfall along the coast is the same as Perth and Broome. (Australian Bureau of Meterology) For instance, in July 2008 Albany had only 2mm more rain than Perth, and 5mm less than Rottnest Island.
Because rainbows change with the location of the observer, everyone's rainbow is slightly unique. However, at the top we will all see RED (the longest wavelength that we can see), then orange, yellow, green, blue and violet at the bottom/inner side.
My heart leaps up
when I behold
a rainbow in the sky.
~ William Wordsworth
The true harvest of my life
is intangible - a little stardust caught, a portion of the rainbow I have clutched.
~ Henry David Thoreau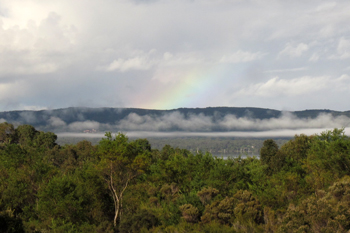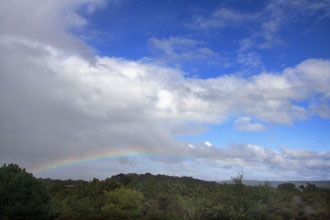 A rainbow from our front window, Denmark, WA
As you can see it's slightly rainy and beautiful.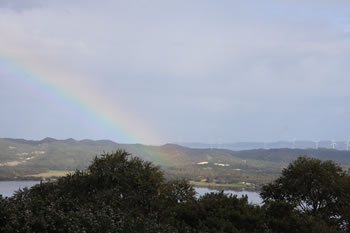 A Rainbow over the Albany Wind Farm, Albany WA.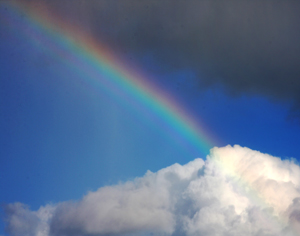 "Someday we'll find it,
the Rainbow connection,
the lovers, the dreamers and me.
All of us under it's spell,
we know that it's probably magic."
~ Kermit the Frog (Jim Henson)
There is something very healing about seeing a rainbow. There are several videos of Rainbows we recorded this winter, click play below to see them: