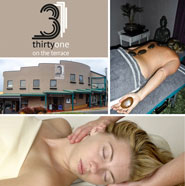 Hawaiian Huna Massage
Relax with a Hawaiian Huna Massage set in the beautiful Guest House 31 on the Terrace in the heart of Denmark.
HAWAIIAN massage is a form of massage originating from the Pacific Islands. It involves using the forearms, elbows and hands in continuous flowing strokes. It is relaxing, invigorating and uniquely nurturing to the body. The massage is beneficial to all from the young to the elderly, to the active and the inactive, and is great for rehabilitation. Huna Therapies Available include The Stress Buster, Foot Care, Young Kahuna for school age children, Maui Special full body massage, Huna Delight with soothing Hot Stones. Information, accurate and directional Huna Readings are also available on site. This therapy alleviates aches and pain, aids relaxation, circulation, detoxification and is a perfect rehabilitation therapy for back, neck and shoulders. Open 7 days: Monday-Wednesday 9am - 6pm, Thursday-Friday 9am - 6.30pm, Saturday 9am - 4pm & Sunday 10am - 3pm.
Advertisers prefer you to BOOK DIRECT saving them countless amounts on booking fees. CONTACT THEM DIRECTLY NOW!