Favourite Beaches on the south coast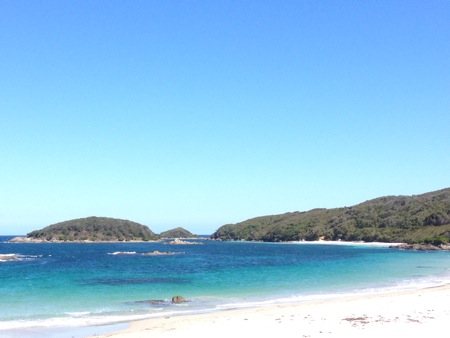 We are blessed to have so many stunningly and beautiful beaches in the Rainbow Coast Region. Of course it's not possible to say which beaches are the 'best', given that every beach on the Rainbow Coast is gorgeous...
What we do know for sure is that you will most definitely benefit from time at the beach! The sun's vitamin D boost, sensory bliss by dipping your toes in the sand and diving into in our beautiful Southern Ocean completes your thrilling beach experience with nature's free mineral bath! The ocean is packed with minerals such as potassium, zinc, iodine, sodium and iron...a welcome contrast from our immersion in a technical world.
Our beaches are pristine, clean and each one offers its own little piece of paradise...
Swim in the rock pools, stand atop the awe inspiring cliffs, swim in the clear waters of secluded bays, snorkel around giant boulders that are millions of years old, enjoy a stroll along the pristine sand, all of these experiences can be had here on the beaches of the Rainbow Coast Region. Surfing, swimming, snorkelling, scuba diving wrecks...our beaches have it all!
Here are our favourites...
---
Looking for the TOP beaches along the south coast near Albany, Denmark or Walpole? Tap the markers for information about the locations on the Map below.
What's on the map? These are the locations plotted above:
---
Other favourite TOP locations and useful places: