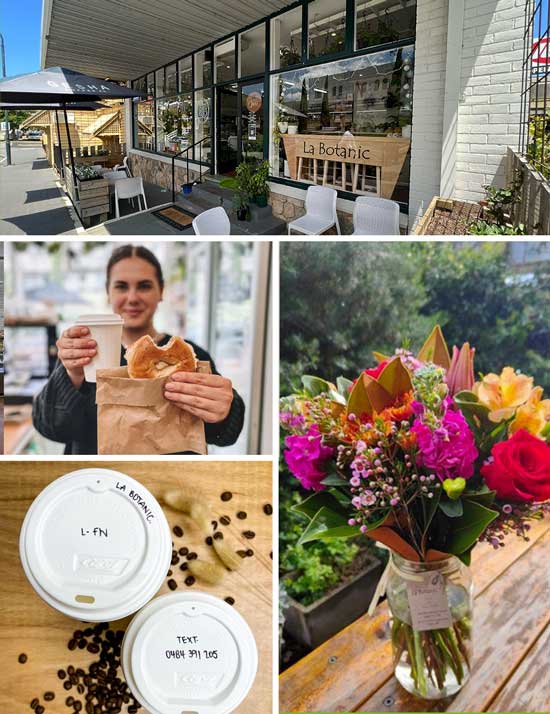 La Botanic
Albany
Coffee, bagels, and cakes for the discerning residents of Albany and visitors!
The moment you walk in the door at La Botanic, you're not only greeted by friendly faces but stunning bright colours of fresh flowers, creating a relaxed and natural ambiance. The friendly staff will serve you everyday with delicious bagels; the choices and combos are almost endless! Are you a sweet, savoury or spicy? Choose from Plain • Jalepano • Rosemary Olive • Everything • Blueberry! The cake cabinet is full & waiting for you, including Gluten Free options. Enjoy our delicious coffee, made with care from the finest @geshacoffeeco beans. For those warm summer days enjoy a milkshake, or choose from our great range of @lapaleta ice pops, including the very popular watermelon. With no additives, preservatives or nasties, just the freshest of fruit WA has on offer! La Botanic also delivers Great Value Flowers and Gift Hampers 7 Days a week including Public Holidays. Fresh flowers, plants , gifts and botanical wares for sale. We're open 7.30am to 5.30pm on weekdays. Weekends and public holidays 7.30am to 4.00pm. Easy parking on Proudlove Parade.
This establishment prefers you to BOOK DIRECT saving them countless amounts on time and effort, and ensuring you have a place when you arrive. CONTACT THEM DIRECTLY NOW!
Where is La Botanic?
La Botanic is located at 20 Proudlove Parade, Albany, 6330, WA - on the South Coast of Western Australia.
---
What is the BEST way to book La Botanic?
La Botanic prefers that you book DIRECT, as it allows them to serve your needs better.
---
Where is the BEST way to book La Botanic?
If not by phone, La Botanic prefers that you book via their Website: www.bit.ly/LaBotanic to serve you better.