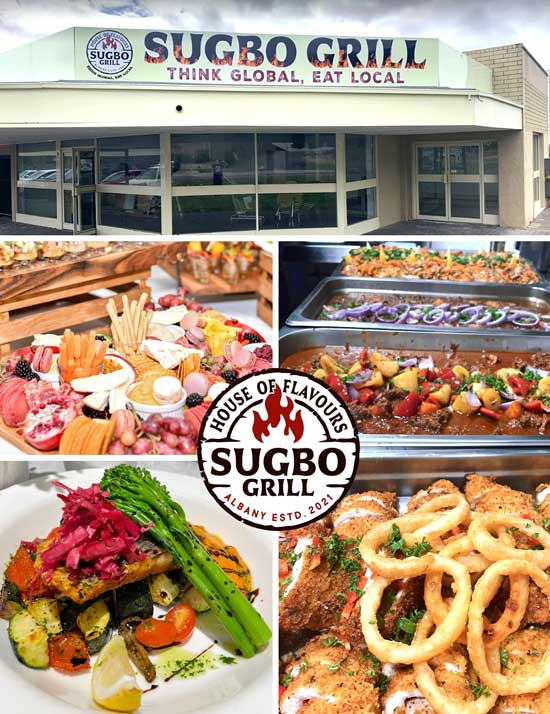 Sugbo Grill
Albany
Our mission is to make customers happy by offering the best food, service, and ambiance in Albany.
We give our customers a place to celebrate life's special moments. Full of authenticity and genuine love Dexter, his wife June and their team provide an awesome restaurant with a friendly and down to earth vibe, and a great choice of flavourful food for lunch and dinner! Their love for the Philippines shines through, you'll feel cared for and the helpful staff always have a smile waiting! This spacious restaurant has plenty of seating, has nice decor inside and is located in a quiet spot, right beside the famous Dog Rock. The prices are very reasonable, you get a lot for your money and the service is fast. It's a great place to bring the family or have a lunch or dinner for two. Great variety of choice on the menu and the food has great flavours, is very fresh and its not just amazing, but amazingly consistent. This new, clean and bright restaurant has parking outside. If dining in is not your thing you can enjoy the delicious food as Takeaway Next door. Monday - Saturday: 10:00AM–2:30PM, 5:00–8:30PM Closed on Sunday.
This establishment prefers you to BOOK DIRECT saving them countless amounts on time and effort, and ensuring you have a place when you arrive. CONTACT THEM DIRECTLY NOW!
Where is Sugbo Grill?
Sugbo Grill is located at Shop 21, 304 Dog Rock Boulevarde, Middleton Rd, Albany, 6330, WA - on the South Coast of Western Australia.
---
What is the BEST way to book Sugbo Grill?
Sugbo Grill prefers that you book DIRECT, as it allows them to serve your needs better.
---
Where is the BEST way to book Sugbo Grill?
If not by phone, Sugbo Grill prefers that you book via their Website: www.bit.ly/sugbo-grill to serve you better.