Shelley Beach in West Cape Howe is a beautiful and powerful beach along the waters of Torbay. The turquoise waters, verdant surrounds and ocean breeze make this beach a popular yet remote destination.
The beach and lookout are located just south of Cosy Corner along Coombes and Shelley Beach Roads, Shelley Beach has a large car park set just behind the beach.
Above, the Shelley Beach Lookout is worth a visit for it's views across Torbay and Torbay Head to the south, and of Torndirrup Peninsula, the Albany Wind Farm and The Gap across the water to the west.

The West Cape Howe National Park Map may help you get your bearings.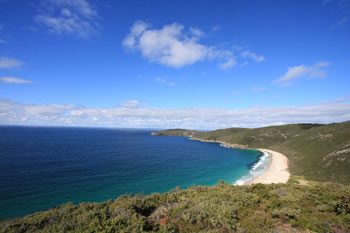 Shelley Beach is one of those amazing locations that is a must see when in the Albany Region.
The white sandy beaches, rocky headlands covered with green, huge waves and amazing views make Shelley Beach memorable.
From Shelley Beach Lookout (above the beach) you can see the southern most point of Western Australia, Torbay Head in West Cape Howe.