Middleton Beach is only a four minute drive from Albany City Centre!

Middleton Beach is the closest beach to Albany City and its most popular! Michaelmas and Breaksea islands are clearly seen from the shore.

Sheltered from the largest waves by the islands and headlands of King George Sound it is ideal for swimming, wind surfing, picnicking and snorkelling!

There is a delightful terraced area to picnic in the shade overlooking the ocean at Ellen Cove.
Middleton Beach has a few eateries, shops and plenty of places to stay, it is a popular and social beach where people of all ages can find a place to relax in the shade of the trees.
Fishing is popular from the jetty and the jetty is great for jumping off!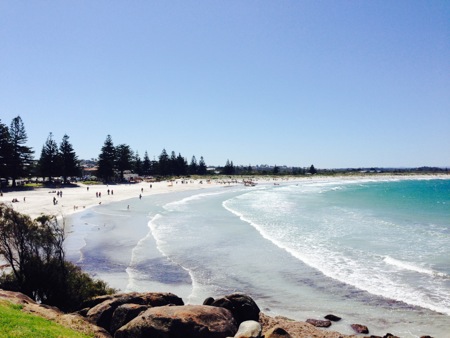 Ellen Cove, a Historical and Scenic Boardwalk.
At Ellen Cove the bay wraps around the headland. Follow the boardwalk as it climbs the hill with views over the King George Sound, Middleton Bay, Vancouver Peninsula and the outlying islands with an easy to moderate bike ride and moderate to hard walk.
The Point King Lighthouse operated between 1857 and 1911and the ruins of keeper cottage residence is all that remains today. This was Albany Port's first navigational light and WA's second lighthouse! The Ellen Cove To Albany Port walk is a dual use pathway that takes between 1 and 3 hours to walk finishing in Albany's CBD, the Albany Entertainment Centre and Albany Harbour. A wonderfully historic walk with stunning natural scenery!
Click here to see an
Albany Beaches Map
Middleton Beach stretches 4.5km to
Emu Point
. You can hire bikes to enjoy this area from
Albany Bike Hire.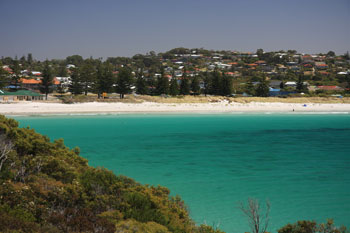 Eyre Park is located only 500m from the beach and between Adelaide Crescent and Garden Street.
Eyre Park is an All Abilities Play Space with a lake, gazebo, drinking fountain, toilets, picnic tables and BBQ facilities.

This large and well equipped park has a great range of play equipment for all abilities including swings, bridges, climbing ropes, flying foxes and sand play.
The park also has a basketball court which is is lit up until 9pm at night.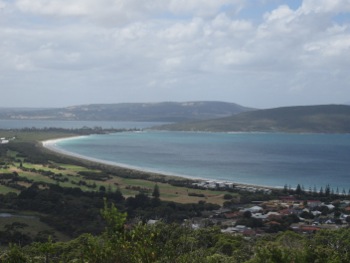 This photo is the view of Middleton Beach from Princess Royal Fortress with point, Emu Point, separating the vast and wavy King George Sound from the calmer waters of Oyster Harbour and the Kalgan River system.
Attractions around Middleton Beach
Point King & King George Sound
Walk the beautiful 8.4km Ellen Cove Boardwalk trail and get amazing views, suitable for all skill levels.
The boardwalk is a pleasant shallow slope up and around the point with incredible views of King George Sound, Vancouver Peninsula, Middleton Beach and Emu Point. You'll see Gull Rock National Park and Two Peoples Bay in the distance.
The Ellen Cove Boardwalk converts to a well sealed walking and biking trail wrapping around Mount Adelaide into Ataturk Channel and arriving finally at the Albany Harbour on Princess Royal Harbour.
The entrance to Princess Royal Harbour is called Ataturk Entrance, named after Mustafa Kemal Ataturk, Commander in Chief of the Turkish forces at Gallipoli.

This is both an historical and naturally beautiful walking trail.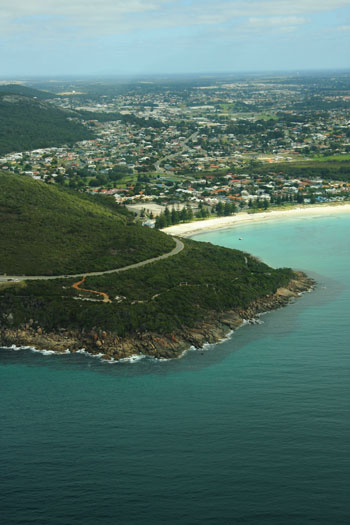 Viewing and whale watching platform.


Anzacs' sacrifice remembered in Albany 100 years on ...
The Centenary of Anzac, 2014 to 2018, was an important period of national commemoration for Australia when Albany hosted a range of events and services to mark 100 years since the first convoy sailed from Australia bound for World War 1.
The Albany ANZAC Memorial Re-enactment in 2014, displayed a flotilla of warships in Princess Royal Harbour plus numerous other events including the opening of the National Anzac Centre.

Albany's Menang people have been living in the region for many thousands of years prior to British arrival in 1826.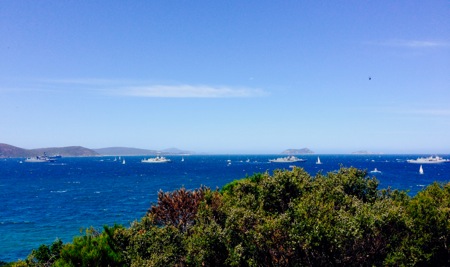 ANZAC Naval Reenactment, King George Sound, 2014