Conspicuous Cliff Beach is named because of the fact it is just below Conspicuous Cliff.
Accessing Conspicuous Cliff Beach is via a boardwalk, small stairway, and a walk across the shallow waterway emptying into the ocean.
Standing high above the surrounding heathland, the Cliff-top lookout gives fantastic views of the beach and river flowing into the sea. See the videos below to see what we mean.
The walkway up to the lookout at the top of Conspicuous Cliff is taxing, with dozens of steps leading up to the peak. There are comfortable benches at intervals, so take your time.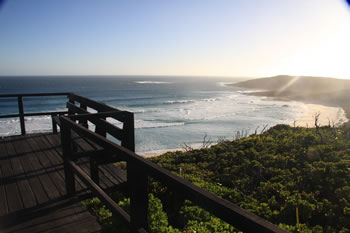 Conspicuous Beach, far below, from the lookout near the top of Conspicuous Cliff. This lookout is also popular for whale watching in seacon.