Fernhook Falls & Rowell's Pool Canoe Launch

Fernhook Falls is located along the Deep River which is one of the main tributaries of the Walpole and Nornalup Inlets. It is situated in the Mount Frankland National Park, part of the Walpole Wilderness Area about forty kilometres north of Walpole.
Fernhook Falls is a popular swimming and picnic spot in summer, and during winter is a truly magnificent sight!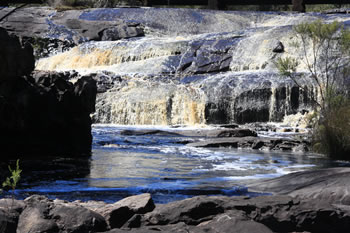 Downriver of the falls, along the boardwalk which follows the river, you will find Rowell's Pool. Here a safe canoe launch is used, primarily during the whitewater season (July to the end of Oct).

There is an abundance of bird and wildlife in the area including kangaroos.
There are a couple of excellent short walking trials from Fernhook Campground to Rowell's Pool and Fernhook Falls.

Find a Map to Fernhook Falls on the Mount Frankland National Park Map

This is a wonderful destination for an afternoon's adventure or longer...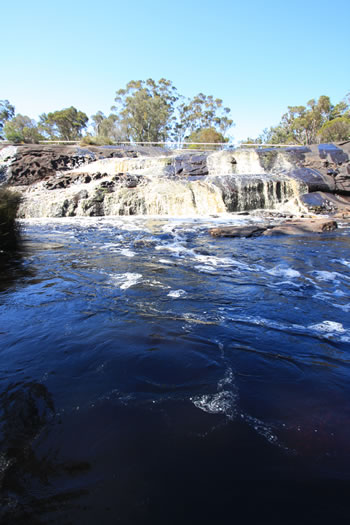 The CALM Camp Ground Fernhook Camp, with Day Use Area, is secluded and next to Deep River and Rowell's Pool.
Access is 35km NW of Walpole via South Western Highway and Beardmore Road or North Walpole Road and Beardmore Road.

Toilets, picnic tables, outdoor kitchen with BBQ's and under cover dining.
Camping fees apply. No Bookings. Maximum of three nights.
There are 8 tent sites that can accommodate small campervans and camper trailers and 2 huts.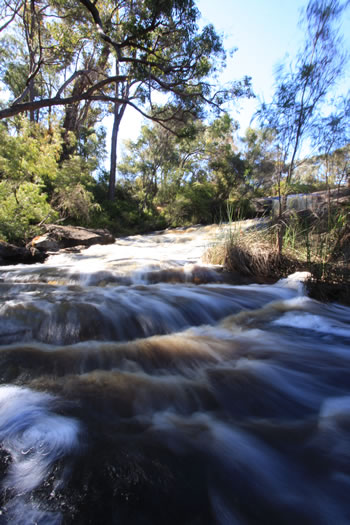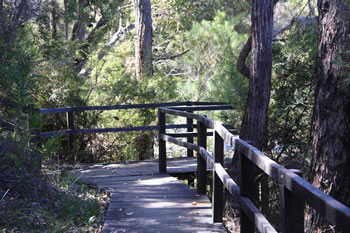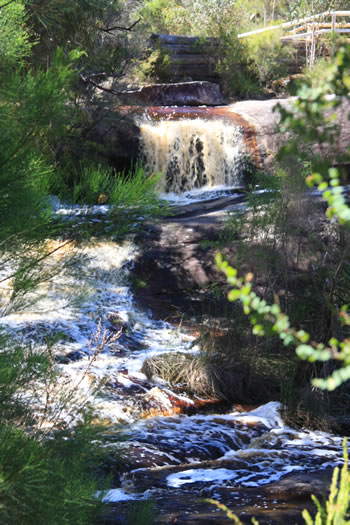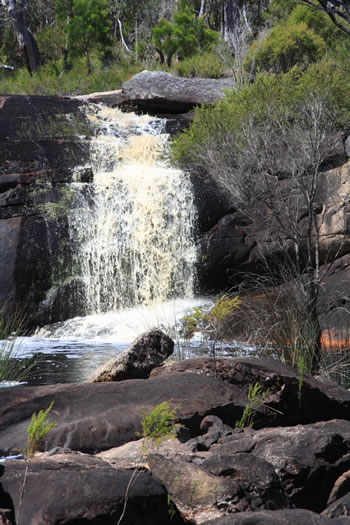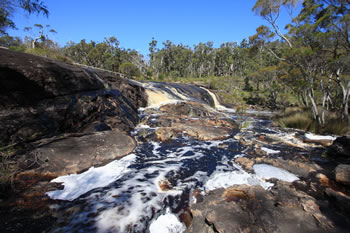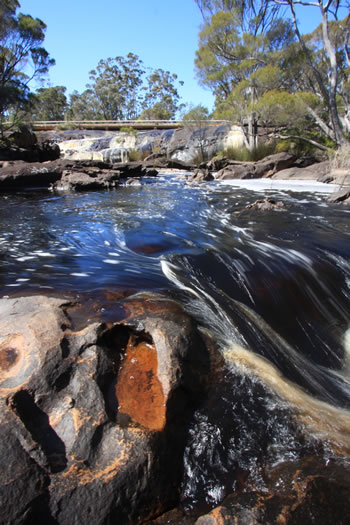 Camping at Fernhook Falls
Fernhook Falls is a small, secluded camping area in the forest, maximum stay 3 days. Fees Apply.
36 km north-west of Walpole on Beardmore Road, turn off South Western Highway.
Toilets, tank water
Gas BBQs, kitchen
8 sites for off-road camper trailers,
2 cabins available- first come first served
Canoeing, canoe trip on the pristine Deep River.
Hiking on the walking trails
Swimming
No Dogs
Fires (when allowed, restrictions apply)
Rowell's Pool at Fernhook Falls
Below the falls, at the river edge, are board walks and a stairway into the river affords a safe canoe launch during the white water season of July to October.
The Boat Launch sign says: "River conditions can vary considerably during the year, greatly affecting the time your trip will take and its degree of difficulty."
The sign has a guide to help determine the length of your trip. The launch at Rowell's Pool has concrete steps leading down to the waterline.
Information on the river conditions can be sought from the CALM office in Walpole. Let someone know you'll be making a trip on the river.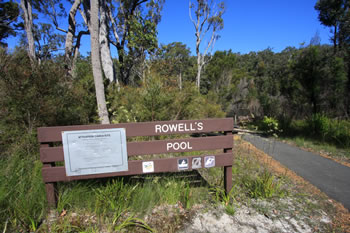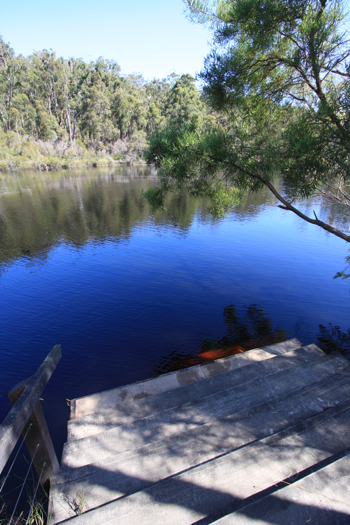 Walpole and surrounds:
Other attractions in the Walpole-Nornalup National Park:
Accommodation in Walpole?