In the middle of the Cable Beach is a giant boulder which was lifted by the force of the waves and placed onto the stones. Looking at this boulder sitting in the middle of Cable Beach, again we were reminded of the power of the Southern Ocean.
This coastline faces open southern waters and frequent 'king waves' buffet the coastline. BE VERY CAREFUL when visiting Cable Beach. Do not underestimate the power of the ocean.
Cable Beach is accessible only by a descent which may also be referred to as a bit of a hike! The staircase descends from the carpark onto the rocky bolders which continue for at least twice as long as the stairs down onto the beach.
The Cable Beach coastline is magnificent with multi-coloured brush reaching right down to the sea. White sand, blue water. The rocky coast is almost unbelievable with giant boulders across the dunes.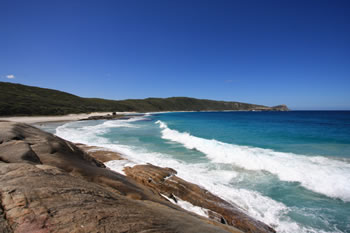 Situated on the Torndirrup peninsula which shelters Albany from the Great Southern Ocean, Torndirrup National Park has some of the Rainbow Coast's most extraordinary natural features.
Swimming is permitted but NOT RECOMMENDED. The currents at Cable Beach are dangerous.
Read and obey all of the signs.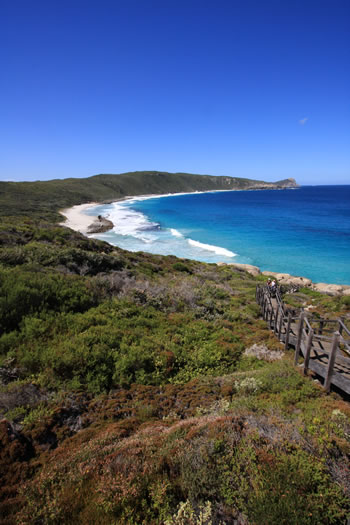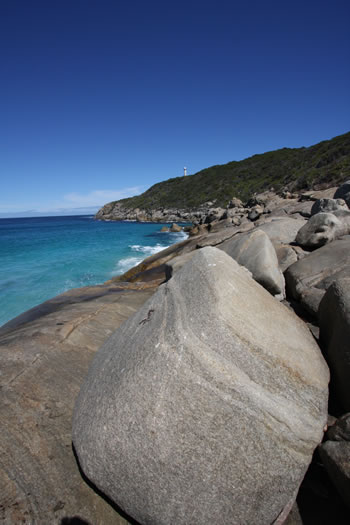 Torndirrup National Park Attractions:
Attractions in Albany and surrounds:
Accommodation in Albany Australia: