Salmon Holes is located in Torndirrup National Park along the northern end of Isthmus Bay. Salmon Holes beach is reached by descending a winding stairway from the lookout, just a short walk from the car park. In mid-summer the carpark can be very busy.
The stairs from the lookout take you straight to the white, sandy Salmon Holes beach.
Why Salmon Holes?
Salmon Holes is named after the salmon that come to rest in the bays and is an excellent fishing beach in season, and one of the best beach fishing locations along the coast. See below for information on Salmon and Fishing here.
Salmon Holes can be seen from the lookout, and is well worth the stop to see the gorgeous coast from this elevation. A great place to see the beach and watch the giant waves crash over the rocky headlands.
Usually protected from the winds, Salmon Holes is a beautiful ocean-side beach location perfect during the summer holidays in Albany.
Swimming?
Swimming at Salmon Holes is permitted but NOT RECOMMENDED.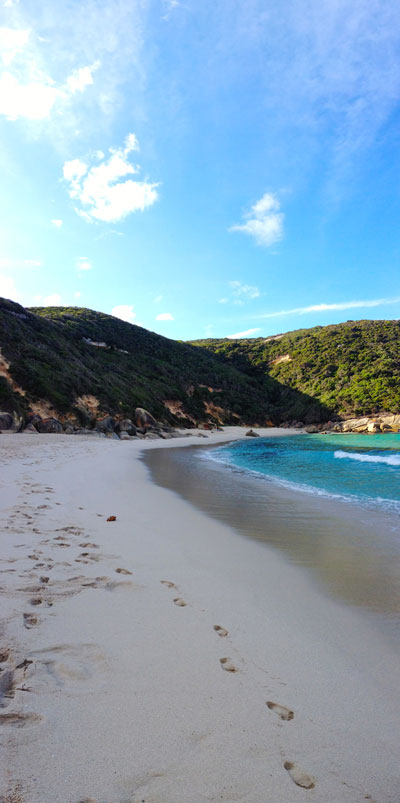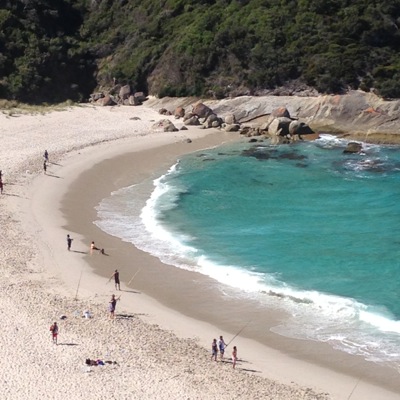 CAUTION, the Great Southern Ocean coastline is prone to surges, so be extremely aware when climbing, driving or walking close to the waterline.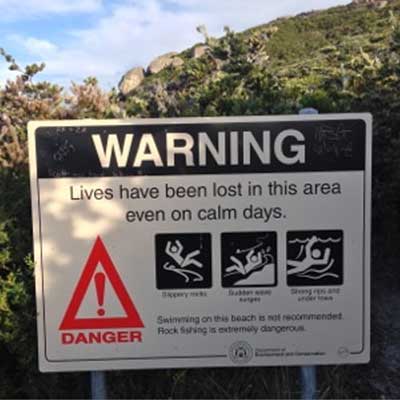 Seriously, be careful while at Salmon Holes. Read the signs! Your Saftey is YOUR responsibility.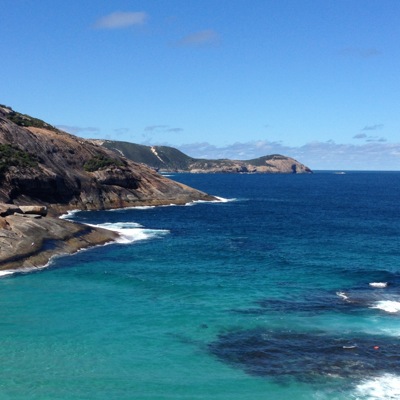 There are two sets of staircases, the Main staircase in the north (turn left from the car park) and one to the south (turn right at the car park).
Picturesque is one of the best words for Salmon Holes. The curving white, wide sandy beach. The shallow reef just offshore. Rocky outcroppings. Turquoise waters... it's gorgeous. On the other side of the peninsula, the calm waters of Frenchman Bay offer a contrast to the large powerful waves at Salmon Holes. Both excellent choices for a day on the coast, although the beach faces east and is shadowed in the late afternoon.
Salmon Fishing at Salmon Holes
Australian salmon are not related to the salmon family Salmonidae of the Northern Hemisphere but belong to the order Perciformes of perch-like fishes. Australian salmon were named so by early European settlers after their superficial resemblance to the salmoniform fishes. ~ Wikipedia
The limestone reef just offshore offer the salmon protection from sharks and other predators. The Arripis (Australian Salmon) prefer the cooler layers of water and the coastal currents just offshore are a perfect habitat.
Rock Fishers, come prepared. Rock Fishing at Salmon Holes is dangerous (lives have been lost) so tie off and take precautions. King waves can occur without notice and sweep you from the rocks. Seriously. Information on Fishing should be referred to the Department of Parks and Wildlife. State-wide regulations and restrctions apply. View the Recreational Fishing Guide for Western Australia for details.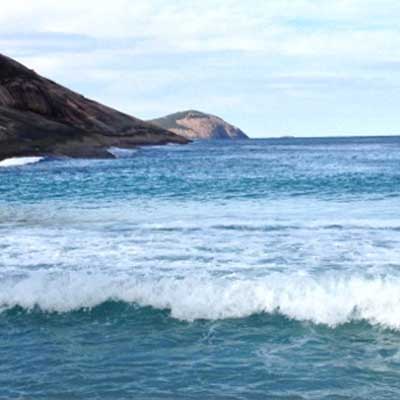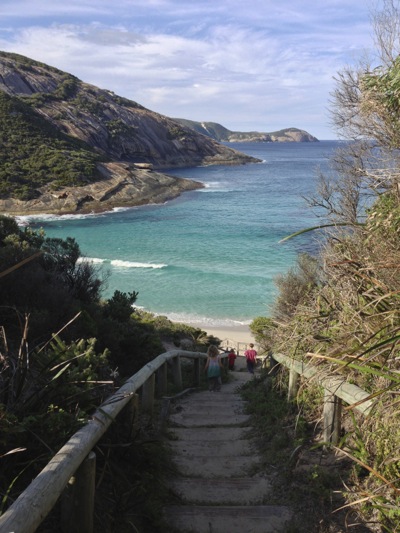 Torndirrup National Park Attractions:
Attractions in Albany and surrounds:
Accommodation in Albany Australia: