Stony Hill has a delightful 500mtr fairly level circular walk which offers spectacular 360 degree views of Torndirrup National Park. View Peak Head and the Great Southern Ocean facing directly south.
Facing North, the Princess Royal Harbour and King George Sound can be seen surrounding the town of Albany.
With binoculars it's possible to spot the artillery at the Princess Royal Fortress above Albany town many kilometres away.
An easy walk to the rocks, Stony Hill looks out over native heathland which is a popular destination in wildflower season. These stone giants stand impressively surveying the entire coast.
This makes Stony Hill a delight to visit.
Nearby, the Gap, Natural Bridge and Salmon Holes offer a full day's adventuring in Torndirrup National Park. Bush walking attire recommended. Your safety is your responsibility.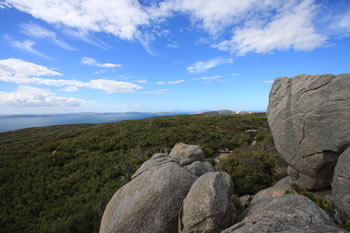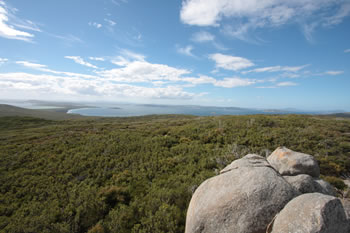 Stony Hill set among and above Torndirrup National Park once directly conected to Antarctica.