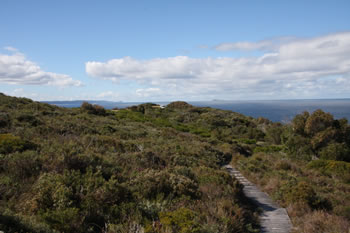 Millions of years ago this area of the Australian coastline was connected to Antartica.
West Cape Howe's dolerite sea cliffs make an impressive backdrop, and provide high quality climbing routes, remarkable rock climbing for experienced climbers!
The Bibbulmun Track passes directly through West Cape Howe National Park on is way from Albany in the south to Perth in the north. It traverses the Shelley Beach Lookout where the Track can be taken to Albany or towards Walpole.
This thousand kilometre walk is one of the world's greatest long distance walking trails. There are many other trails in this area including the Mundi Biddi trail, the Torbay Rail Trail, Torbay Bird Walk and Point Possession Trail.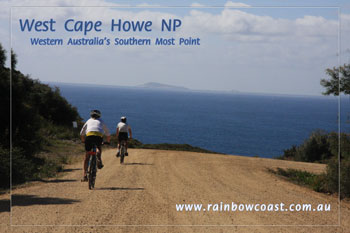 Cycling through West Cape Howe National Park is a thrilling experience. Dunsky beach is a popular site for snorkelling and scuba diving.
Limited camping sites are located at Shelley Beach and Campfires and cooking fires are not allowed.
Australian salmon, groper, herring, shark, mulloway and whiting can be caught across the park.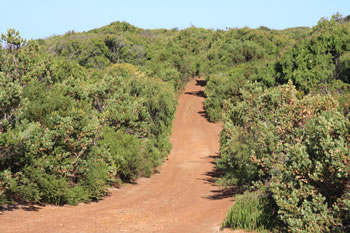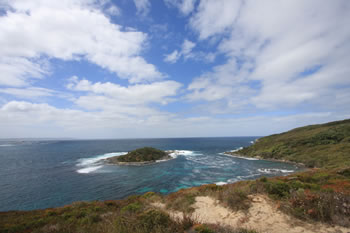 Above, the view over Forsyth Bluff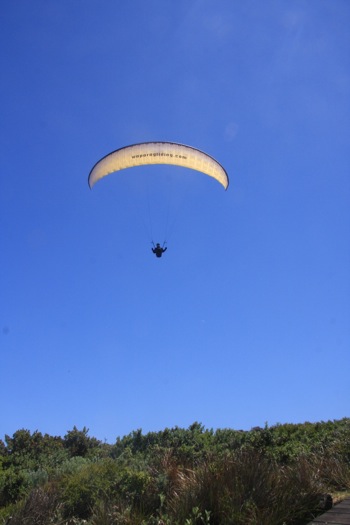 Hang Gliding, Shelley Beach Lookout
Hang gliders and para gliders have 2 launch platforms custom built into the black granite headland above Shelley Beach, at the lookout. You must register with the Department of Parks and Wildlife before taking to the skies!
These platforms give uninterrupted views of West Cape Howe and Albany Wind Farm as well as Torndirrup Peninsula. Stay well back from cliff edges.
No pets are permitted in National Parks, including within cars, parking areas and on beaches. Poison baits are used in the parks.