The turbines are situated approximately half way between Ocean Beach and the end of Wilson Head up a long, winding, well-packed track.
Visitors to the Denmark Community Windfarm can park at the bottom of the entrance to the windfarm (near the gates) and must walk (or ride a bike) up the hill. This is not a path for anyone who needs assistance walking as it's quite a hike. It's not somewhere we'd take Nannie and Grandpa for a morning's stroll but a great way to keep fit and enjoy the coastline.
The Denmark Community Windfarm plans to supply approximately 40% of the 8 gigawat hrs of electricity the residents and businesses of Denmark utilise yearly.
There are two 800kW turbine generators which make use of the consistent winds along the coast and stand majestically along Wilson Head.
Though there was some opposition to the Community Windfarm, mostly due to the visibility of the turbines, in our opinion (as residents of Denmark) they do not detract from the visual appeal of the coastline. Rather, the turbines give scale and perspective to many of the attractions of the coast.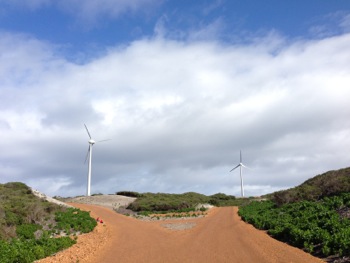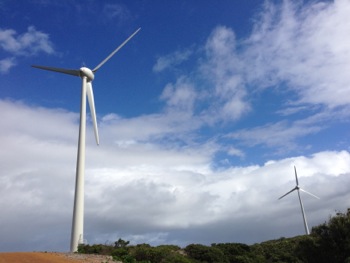 The turbines can be seen from Monkey Rock, Tower Hill, Lights Beach and parts of William Bay National Park from the west, and Ocean Beach and Nullaki from the east. They are unobtrusive and elegant in their position on the headland.