Ocean Beach is set between the Wilson Inlet and the Great Southern Ocean. Easily accessed, only a few kilometres outside Denmark along Ocean Beach Road.
Ocean Beach is Denmark's home-beach.
As you travel along Ocean Beach Road the Ocean Beach Lookout is signposted to the left, with the main car park shortly thereafter above the Surf Lifesaving Club.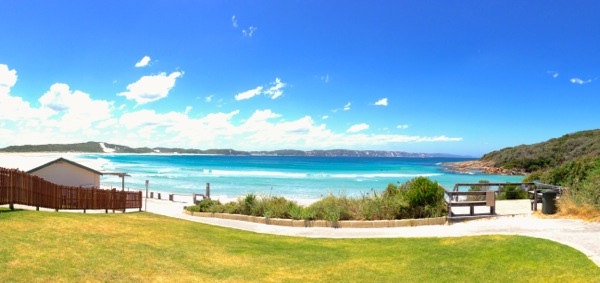 The beach is a very popular surfing spot and a great place to learn to surf. From the lookout you'll see how good the waves are. This is a safe beach to learn to surf.
Walking along the beach to the east you will either find a sand-bar taking you to the Nullaki peninsula... or an open channel from the Wilson Inlet (right) where the dark waters pour into the ocean. It depends on what time of year you visit!
Ocean Beach is a must-visit while in Denmark. Take a deep breath of the beautiful, clean fresh air coming off the Southern Ocean.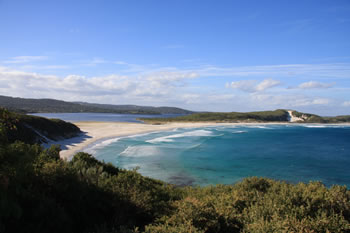 Ocean Beach is the best surf location in and around Denmark, Western Australia.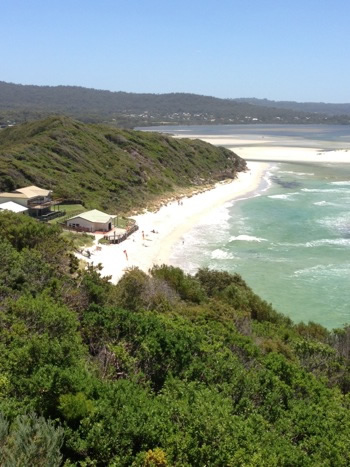 The Lifesaving Club & the Wilson Inlet from the lookout.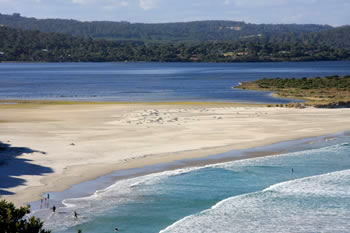 Ocean Beach closes the Wilson Inlet each year.
Swimming
Ocean Beach is extremely popular because it's just beautiful! Also, the shallow waters and sand bar make it a popular swimming location on the coast. Thankfully the Denmark Surf Life Saving Club patrolls the beach!
For much of the year Ocean Beach stretches the lengh of the bay onto Nullaki Peninsula, separating the Wilson Inlet from the ocean. This lengthens the beach considerably making is a wonderful place to walk and enjoy the sea air.