Rainbows on the coast?
Being at this distance 'downunder' - the Rainbow Coast is perfectly placed to enjoy the spectacle of rainbows.
Makuru and Djilba (ie: winter) could be renamed Rainbow Season.
During the winter months, when the sun is within 42 degrees of the horizon, the rain usually comes off the ocean from the south west which means, thanks to geometry, "rainbows, rainbows everywhere!" Learn more about Rainbows!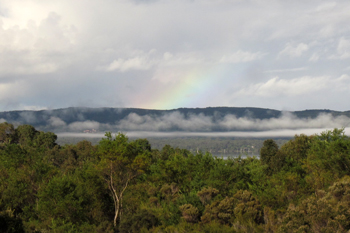 Rainbow over the Wilson Inlet reflecting off the morning mist. Denmark.