The National Park
Situated on the Torndirrup peninsula which shelters Albany from the Great Southern Ocean, Torndirrup National Park has some of the Rainbow Coast's most extraordinary natural features. The north side of the peninsula is the Princess Royal Harbour and to the east the King George Sound. The south side takes the full force of the Southern Ocean.
Torndirrup National Park covers almost four thousand hectares and is home to the famous 'The Gap' and 'Natural Bridge' rock formations (below) as well as The Blowholes which have formed over thousands of years.
These granite outcroppings have been slowly worn away by the Great Southern Ocean since it broke away from Antarctica when Australia was part of the supercontinent Gondwana. The rocks along this coastline are OLD, many of which were formed up to 1800 million years ago.
Access Torndirrup National Park south of Albany along Frenchmans Bay Road. Along the way stop at the Albany Wind Farm which is on the peninsula but just north of the National Park. View the Torndirrup National Park Map to see the locations of the many attractions the park has to offer.
The Torndirrup Peninsula
From atop Stony Hill you can see most of the Torndirrup Peninsula as well as West Cape Howe, the southern-most point of WA, and the western-most point of the Great Australian Bight, across the bay.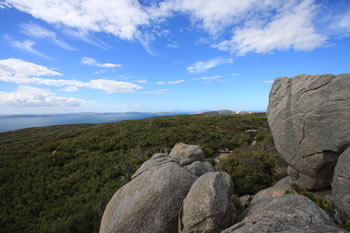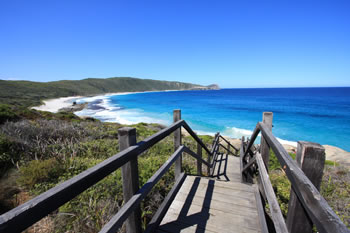 Cable Beach and the giant boulder placed by the sea, from the top of the stairs to the beach.