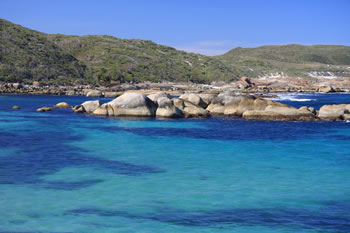 The beautiful turquoise waters and ancient rock formations of William Bay National Park are spectacular.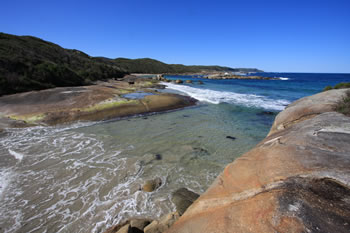 If you continue on past the waterfall you will be able to see Lights Beach in the distance to the east.
The beaches and rocks in between are very rugged.
If crossing, use the Bibbulmun Trail and proper walking or hiking equipment as the path from Waterfall Beach to Lights Beach is for experienced hikers and walkers with proper attire, water and gear. Information about walking this section of the trail can be discussed with the Denmark Visitors Centre.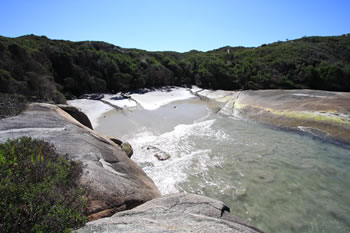 The steep beaches in between are a clear reminder of why Denmark is "Where the Forest meets the Sea."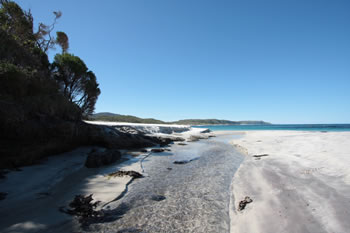 The waterfall then courses onto the beach and out to the ocean across the beach. Great for kids!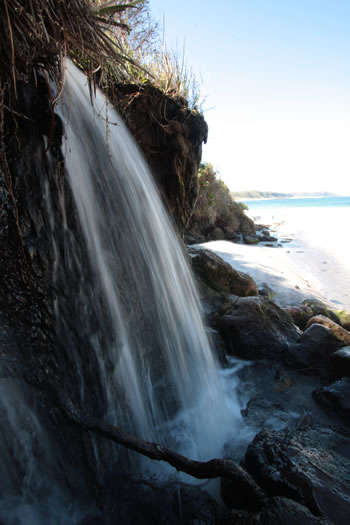 The waterfall is a blessing. After walking across the beach on a hot day it's beautiful to relax in the shade with the cool spray of water falling. The water is cool and courses across the beach to the ocean.
Always Remember, the Great Southern Ocean coastline is prone to surges, so be extremely aware when climbing, driving or walking close to the waterline. The beaches of Greens Pool and Elephant Cove are more protected by the lines of rocks out to sea and are better for swimming. However, always take care and be aware when near the water- your safety is your responsibility. SAFETY: NO SWIMMING. Large waves and rips.